Books 1, 2, 3 and 4 now available!
Check out the series page on Amazon, or read on below for details on each book.
One Night Years Ago
Sharp's Cove Book 1
Natalie Bowmann still has nightmares of her last encounter with Hunter Fowler twelve years earlier. Now, Fowler's back in town.
When he was twenty, Hunter Fowler made a huge mistake. He's spent the last twelve years in prison paying for it. When he gets out of prison, the last thing he wants to do is go back to Sharp's Cove, but he has no choice.
Natalie Bowmann isn't a frightened young woman anymore. She's the town's sheriff now and she's not going to let Fowler's return destroy the life she's built for herself.
When another young woman is attacked, Natalie realizes two things: that twelve years earlier an innocent man was sent to prison and, most importantly, that a monster is loose in their peaceful coastal town.
Will Hunter and Natalie be able to find him before he strikes again?
This sexy suspense romance book is intended for adult readers.
Note to readers: this novel deals with dark themes, as one of the characters was assaulted years earlier and remembers the assault at several points during the story.
---
Two Favors Repaid
Sharp's Cove Book 2
Many in Sharp's Cove thought the killer was long gone … they thought wrong.
Chief Deputy Sheriff Rob Hope loves his job. He will do everything in his power to keep all Sharp's Cove residents safe but there's one woman in particular that he can't bear to see hurt, and that's Emma Farley. He almost lost her a year ago at the hands of a sadistic killer, and the memory still keeps him up at night.
Emma doesn't like to think of herself as a victim. She'd promised herself she wouldn't let the attack define her yet here she was, a year later, still looking over her shoulder at every turn.
When the serial rapist and killer who terrorized Sharp's Cove one year earlier is apprehended by the FBI and insists on speaking to Emma, she and Rob find themselves working closely together. And, as it becomes clear that the killing is nowhere near done, both Rob and Emma vow to do whatever it takes to keep each other safe.
This sexy suspense romance book is intended for adult readers and contains adult language.
---
Three Times Ablaze
Sharp's Cove Book 3
No fire ever burned this hot.
Jessy
Jessy Long likes sharks better than people—both can bite, but in her experience sharks are less cruel.
Jessy arrived in Sharp's Cove months earlier following a clan of great whites. As much as she likes the small town, her bags are already packed, ready for when the sharks choose to move south. In the meantime, her plan is simple: keep herself to herself—and ignore the burning attraction she feels for Darryl Berner, Sharp Cove's cocky, brawny fire chief.
Darryl
Darryl Berner's life used to be simple—now, not so much. The problem isn't that he likes everything about Jessy, from the way her thong fits to her snarky wit, but rather that he can't stop thinking about her, even when she's made it clear she doesn't want anything to do with him.
When Jessy's past follows her to Sharp's Cove, Darryl is the only one she can turn to for help.
Note to readers: This sexy action-packed romance novel is intended for adult readers.
---
Four Cards Exposed
Sharp's Cove Book 4
He has a reputation for being cold and unflappable.
Special Agent James Ramsay doesn't lose control—ever. Until he meets Officer Susan Lopes, from the Sharp's Cove's Sheriff's Department and, suddenly, control is the furthest thing from his mind. She triggers instincts he's never felt before, and ones he can't afford.
It's almost a relief when he's tasked with going undercover with a Mexican cartel. Fighting for his life night after night feels safer than spending time with Susan—when the only thing he wants to do is touch her, yet he knows that's the last thing he should be doing.
When life brings the two of them together again, the heat between them burns hotter than ever, but so does the threat to their lives, and soon protecting her becomes the special agent's top priority. But, even if they can learn to work together, is it enough simply to survive, or do they dare hope for more?
Guaranteed HEA.
Out now!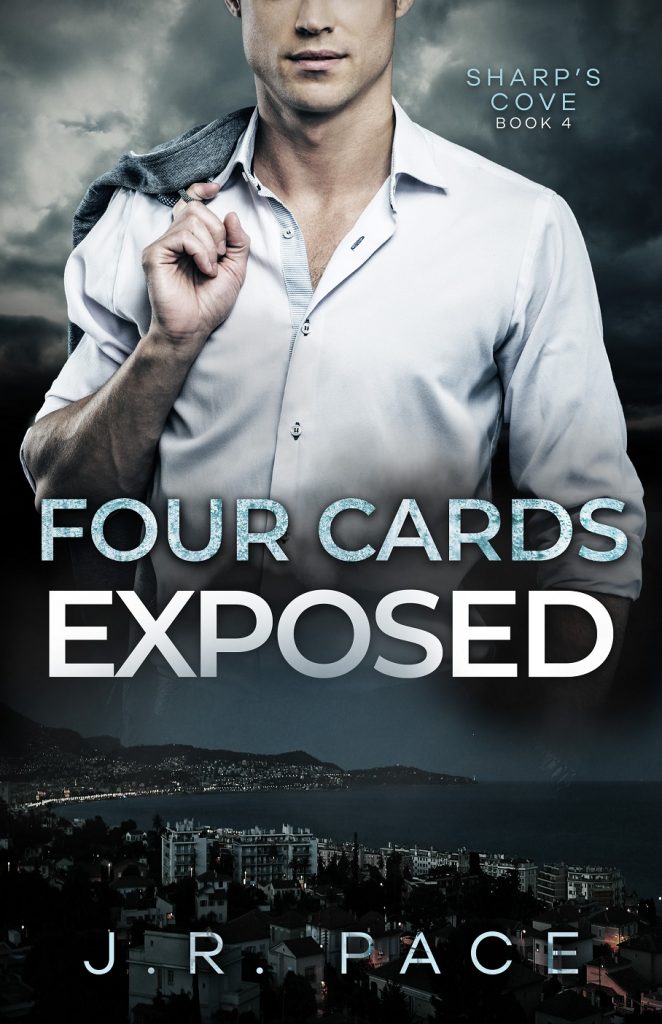 ---